Collecte de données de processus - Industrie 4.0
XBrowser, XViewer et Tuning Board
Les données de processus dans la technologie de formage et de moulage prennent une importance croissante pour des pièces de haute qualité, destinées par exemple à l'aérospatiale ou à l'industrie automobile. Ces données peuvent être stockées automatiquement et mises à disposition de sociétés pour analyse immédiate et évaluation dans un deuxième temps, en cas de réclamations de clients, pour analyse interne et mesures d'amélioration. Le stockage régulier de données de processus avec date, heure et référence produit permet de les retrouver et de les évaluer facilement.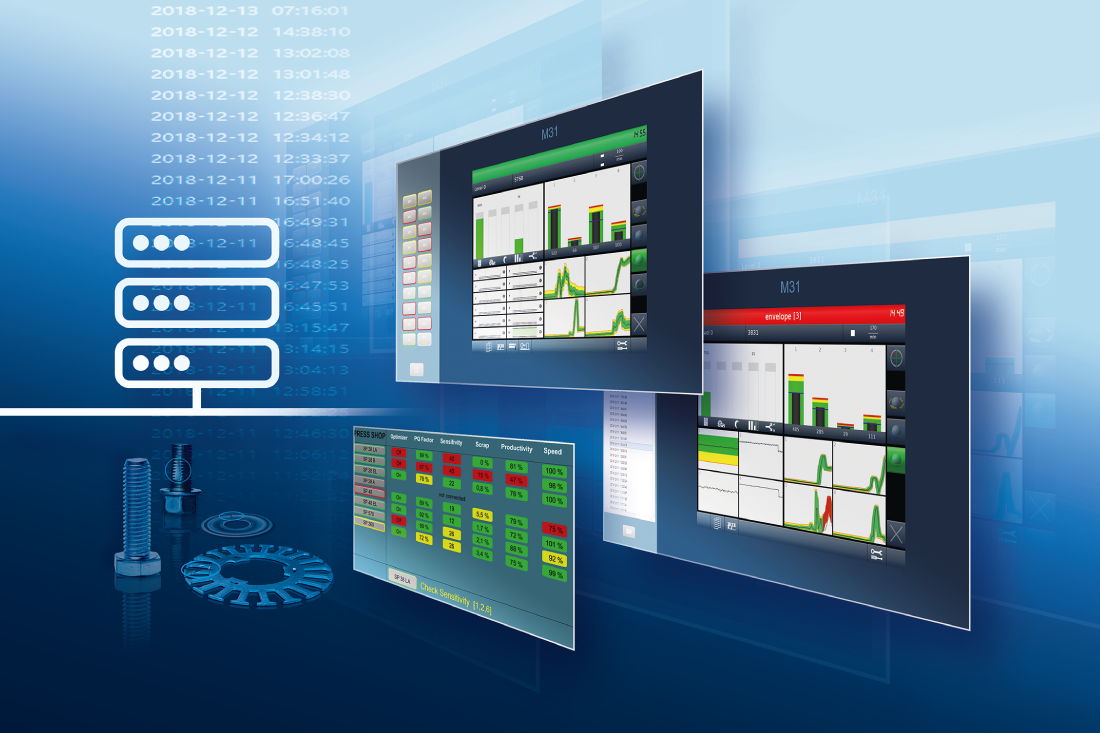 DESCRIPTION
Par le biais du XBrowser les données de processus sont transmises à travers le réseau et stockées sur un serveur client en cas d'anomalies de processus ou à intervalle de temps ou autres.
Dans le XViewer ces fichiers peuvent être analysés hors ligne au bureau, être renommés, évalués et analysés même des semaines plus tard.
Avec le Tuning Board un certain nombre de données de processus importantes peuvent être synthétisées pour analyse immédiate en atelier ou au bureau. Cet aperçu permet un accès direct à la situation de production en cours sur chaque machine (vitesse, rebuts, etc.), la définition des limites de surveillance, la stabilité et la productivité du processus. 
To know more please read the article The importance of data collection to improve the quality of the manufacturing process.
AVANTAGES
Analyse de la situation de production courante
Outil puissant pour la production, le contrôle de qualité et le département de conception d'outils
Contrôle de l'installation de la machine et de l'outil, de la distribution de la charge et de la stabilité du processus
Vision des paramètres du processus à tout moment
Le comportement de la machine et de l'outil peut être évalué plus facilement
Conclusions possibles en cas de problèmes de production
COMPOSANTS
XBrowser
Toutes les données visibles en un coup d'œil
Les paramètres de tous les dispositifs en réseau peuvent être contrôlés depuis le bureau
L'inspection de la production n'est plus nécessaire
XViewer
Les données stockées peuvent être rechargées
Conclusions possibles en cas de problèmes de production
Le comportement de la machine et de l'outil peut être évalué plus facilement dans un deuxième temps
Tuning Board
Toutes les données pertinentes et les données de surveillance en un seul coup d'œil
Identification de problèmes au cours de la production et mesures d'amélioration immédiatement appliquées
Détection et amélioration de processus instables
Top
Contacts